Longwood Medical Area Rentals
Browse apartments for rent in the Longwood Medical Area-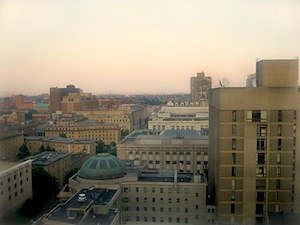 The Longwood Medical Area is a 175-acre community of health care, educational, and religious institutions located adjacent to the Fenway and Mission Hill neighborhoods of Boston, and the Town of Brookline.The Longwood Medical Area is renowned for being one the most prestigious medical, research, and educational centers in the region and the country. Longwood Medical area rentals are in high demand and the median rent is around $2000.
Landmarks: Nearby landmarks and attractions of the Longwood Medical Area include Fenway Park, the home of the Boston Red Sox; Kenmore Square and the Lansdowne Street entertainment district; the Museum of Fine Arts; Symphony Hall; and the Christian Science Center.
Colleges & Medical Institutions: The Longwood Medical Area is surrounded by several medical institutions, including: Beth Israel Deaconess Medical Center, Brigham and Women's Hospital, Children's Hospital, Dana-Farber Cancer Institute, Joslin Diabetes Center, Judge Baker Children's Center and Harvard University's Medical School, School of Dental Medicine, School of Public Health.
Neighboring Schools and colleges of the Longwood Medical Area include: Massachusetts College of Art, Simmons College, Emmanuel College, Wentworth Institute of Technology, Wheelock College, The Winsor School, Massachusetts College of Pharmacy and Health Sciences, School of the Museum of Fine Arts and the Massachusetts College of Art and Design.
Transport: The Longwood Medical Area is serviced by two MBTA subway lines, the "D" and "E" divisions of the Green Line. It is also served by several MBTA bus routes and private shuttle services including Bus Route #39 along Huntington Avenue.
Showing 1 - 10 of 10 Properties Found
$1200
Studio/1 plus Half Baths/Parking: Street/Heat Included
Available Sep 2013
$1410
1 Bed/1 Bath/Parking: Street/Heat Included
Available Jun 2013
$1450
1 Bed/1 Bath/Parking: Street
Available Sep 2013
$2355
2 Beds/1 Bath/Parking: Street/Heat Included
Available Sep 2013
$2500
2 Beds/1 Bath/Parking: Street/Heat Included
Available Sep 2013
$2500
2 Beds/1 plus Half Baths/Parking: Street/Heat Included
Available Sep 2013
$2550
2 Beds/1 Bath/Parking: Street
Available Sep 2013
$2600
2 Beds/1 Bath/Parking: Street/Heat Included
Available Sep 2013
$2600
2 Beds/1 Bath/Parking: Street
Available Sep 2013
$2600
2 Beds/1 Bath/Parking: Street/Heat Included
Available Sep 2013