10 Quirky Restaurants to Eat at in Boston
Posted by Sam Resnick on Sunday, July 31, 2022 at 10:29 AM
By Sam Resnick / July 31, 2022
Comment
On the surface, Boston may look like a "straight edge" smaller version of NYC, but like its larger counterpart, it is steeped in rich history. There is a myriad of quirky and unique world-class restaurants. With Boston being considered a top university town in the US, people from all over the world are attracted to the city.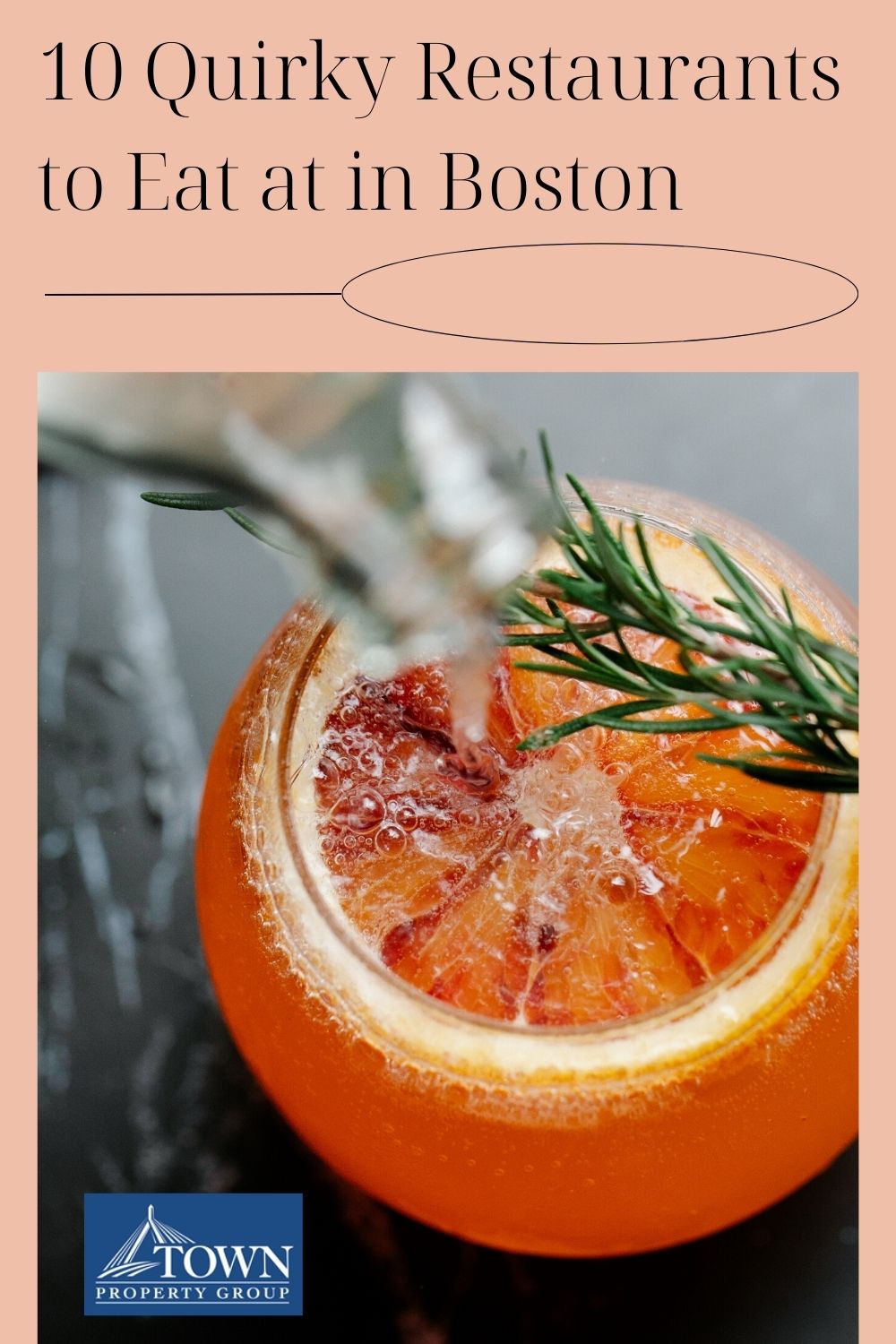 Throughout history, Boston has been a melting pot for immigrants. Many restaurants and neighborhoods have been shaped by the influx of immigration in this city. Boston embraces its multicultural heritage; all you have to do is take a look at Chinatown, East Boston, Cambridge, and the North End to note the sheer diversity in the food scene in the Cradle of Liberty.
Here are 10 quirky and unique places to dine in Boston!
1. Union Oyster House
The Union Oyster House's history is nearly as long as that of Boston itself. With Union Street being laid out in 1636 a few years after the Boston Common was established, there is, unfortunately, no record of the building's date of construction. All that is known through documentation is that the building itself has stood on Union Street with the title of "local landmark" for more than 250 years. This historic eatery has been serving chowder and other various New England seafood since 1826. It currently has a 4/5 star rating!
2. Shojo
Servicing in a trendy, late-night gastropub, Shojo serves elaborate murals dishing offbeat takes on modern Asian fare. The art mural is unique in itself, paired with Japanese fusion cuisine that comes second to none. Enjoy the tapas-style dining experience and you will see why Shojo is among the coolest scenes in Chinatown while sipping away on a Japanese cocktail.
3. New Republik
For history buffs, this Communist-themed restaurant christened the name New Republik is the "it" place. This edgy restaurant is decked out in USSR artifacts from the mid-20th century. Feeding off of Cambridge's counter-culture movement, the New Republik is a great place to hang out with friends. Full of dark boards, and a laid-back vibe with a solid beer section, you won't want to miss out on this fun cuisine.
4. CLINK Restaurant
Located at the site of what was once the old Charles Street Jail, CLINK is famously decked out with jail decor and prison bars, a site not many see every day. Located in what is now the Liberty Hotel, the unique setting for modern American dishes is a place to feast on various menu items, including, but not limited to, New England seafood. Pair each dinner item with a specialty cocktail from the menu and enjoy the eccentric scene.
5. Warren Tavern
Known as one of the most historic taverns in America, the Warren Tavern is the oldest known tavern in Massachusetts and visited by many famous celebrities such as our first President of the United States, George Washington, and Paul Revere. Known for serving some of the best pub grub, the scene is one full of colonial charm and burgers with titles such as the "Sons of Liberty" that you just can't miss out on!
6. Loco Taqueria and Oyster Bar
Located in South Boston, Loco Taqueria and Oyster Bar is a funky restaurant best known for its tacos, oysters, and tequila. Known for serving mouthwatering brunches, this restaurant is a Southern staple. Though the menu is pricey, everything from Mexican to Boston's famous local raw oysters Loco Taqueria and Oyster Bar won't break the bank. The weekend is lively with music and frozen margaritas, sure to drive you "loco!"
7. Asmara
Finding unique, but authentic food special to certain cultures can prove to be a difficult task when living in a smaller town. With how large and diverse Boston is, this task is not impossible. Asmara is a mix of Eritrean and Ethiopian meals in a homey, family-run spot with meals shared and scooped up with injera bread. The unique take on this restaurant, unlike the others listed above, is the overall lack of silverware and utensils. Enjoying this cuisine means using your hands, using injera (sourdough flat bread) as a spoon to wrap your meats and veggies. Asmara is a popular choice amongst vegetarians, but meat eaters will also have much to look forward to with the menu.
8. Lookout Rooftop and Bar
Located on the rooftop of The Envoy Hotel, Lookout Rooftop and Bar is a restaurant that has unbeatable views. Enjoy panoramic views of the waterfront area and Boston skyline all while savoring cocktails and delicious meals offered on the stunning menu. Lookout is open year round, yes, year round, even during the icy month of December. The solution to avoid the chill in the air while enjoying steaming hot food? Rooftop igloos with glowing fire pits. It doesn't get any more quirky than that!
9. Sweet Cheeks Q
Are you, like most good ol' American boys and girls, a fan of BBQ? Look no further than Sweet Cheeks Q, a restaurant specializing in Southern-inspired eatery. With family-style seating, enjoy a chat with your neighbors while indulging in the most mouthwatering biscuits and butter on Boylston Street. Sweet Cheeks Q is hard to miss with its delicious southern BBQ.
10. Liuyishou Hotspot
Hotpot is not just a meal, but an experience. At Liuyishou Hotpot, relax and enjoy strange, but savory foods simmering in a hot broth. The rare delicacies of this unique restaurant are organ meats, many that are not available in the US, but just about anything can be cooked in this spicy (or not so spicy) broth. Taking note from Chongqing, China, the de facto capital of hot pot, Liuyishou Hotpot comes in as a close second to the authenticity of hot pot in the US. This experience is not one you will want to miss out on!
To learn more about Boston and what it has to offer, visit our website.
More Fun Things to Learn About Boston