How to Turn a Rental Agreement from a Good One to a Great One
Posted by Sam Resnick on Wednesday, May 3, 2023 at 8:24:30 PM
By Sam Resnick / May 3, 2023
Comment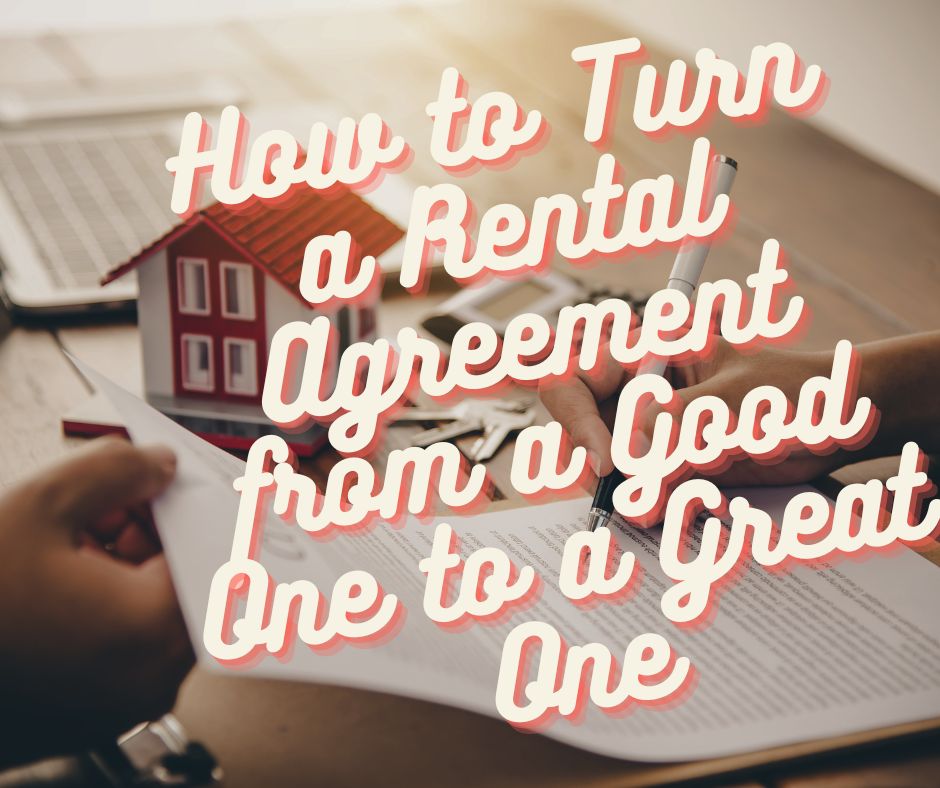 Having a well-communicated rental/lease agreement for your Boston rental property can help to set up Boston landlords for success. The rental agreement or lease communicates what is expected from each party involved in the agreement. It helps a landlord to communicate how well they hope the tenant will care for the property while they live there.
A rental agreement can also serve as a copy for either the landlord or the tenant to refer back to as a guidebook if there are any misunderstandings or communication issues about the responsibilities of each party in the rental agreement. It can also help to defuse issues before they occur as the renter is expected to read through the agreement and sign their name in response to agreeing to uphold everything in the agreement.
But creating a rental agreement that can communicate all of the important details of renting a property can be overwhelming for a landlord. It is good to check out some rental agreement templates and research tips to help you make an agreement that works for your rental properties. You may find that you want to tweak your agreements as new tenants sign on or renew a lease.
Here are some tips to help you take a rental agreement from good to great so that it works well for your rental properties
Find a template you like and customize it
When using a rental agreement you do not have to reinvent the wheel there are several great templates online. If you need help finding the best and most detailed template you can ask a local real estate agent that specializes in Boston rentals or an experienced property manager. Once you do find a template that you like you want to make sure that you are putting in the specific particular requirements of rentals for your area.
This should include federal, state, and local laws that pertain to rental properties in Boston as well as any of your specific rental terms and requirements for living in your property. You want to make sure you are well-versed in all of the requirements for rentals in your location about what needs to be included and disclosed within your rental agreement. Make sure to look up the Boston residential landlord and tenant ordinance to make sure you have included everything you are required to.
Be as specific as possible about rental terms
You want to clearly communicate everything that a renter is signing on and agreeing to when they take possession of keys for your rental. The most important thing about a rental term is to include how long the agreement will last whether it will be for a certain number of months or years or if it will be month to month. You want to include the exact start and end date as well as the full legal names of every approved tenant expected to pay rent.
It is also good to include any cosigners and their contact information as well as a spot for their signatures. You want to include the maximum occupancy of your rental and the monthly rental fee as well as the due date and any grace period if you will allow one as well as the charge for any late rental payments. You will also want to include how rent payments can be made and the security deposit amount as well as any additional deposit fees like pet fees. Make sure to include what size of pet is allowed if you will allow pets.
If you are including utilities make sure to note what utilities will be included with the monthly rental payment. If utilities are not included instructions for setting up utilities should be included in the agreement with an understanding that the renter will have these accounts in their name. It is also good to include a maintenance agreement on what repairs will be handled by the renter and what will be expected to be communicated and called in. Be as descriptive and thorough as possible adding as much detail to the template as you can about your expectations.
Adding clauses
A clause is an addition to an agreement to communicate extra requirements beyond the standard template requirements. There are several different clauses that you can include in your rental agreement to help you prevent any communication issues and problems with renters not upholding their responsibilities. There are several clauses that can be included in rental agreements for more information on standard clauses that many landlords have included in their agreements you can check out this article on improving your lease agreement.
The more detailed and communicative of your expectations for living in your rental property the better chance you have of your renter upholding responsibilities and preventing any issues. No rental agreement will be perfect and communicate everything without fail but some are more communicative than others and have been more helpful to keep a smooth relationship between landlord and renter.
For more information on rental properties in Boston and all of the rental services we offer please contact us anytime.