Is it Possible to Negotiate a Better Rent Price?
Posted by Sam Resnick on Wednesday, April 19, 2023 at 1:45:35 PM
By Sam Resnick / April 19, 2023
Comment
Is it Possible to Negotiate a Better Rent Price on a Boston Rental?
Some people may see that question and immediately answer no, but it is possible to have a conversation about a better monthly rental fee with your landlord or property manager.
It may feel like going up against a giant or trying to "slay a dragon" but with the right research and strategy, it can be possible to talk about the possibility of a lower rent with the property owner or manager.
Here are Some Rental Price Negotiation Tips to Try
Take Timing Into Consideration
Asking for a lower rent in the middle of the month and at a time when there is a waitlist for rentals at your property may not be a great time to ask for a price reduction.
Some better times to bring up the subject include at the end of the month as other tenants are leaving, 90 days before your lease expires, (with an offer of signing another lease) when the building is in need of tenants/there are empty rentals just sitting, and in the winter when fewer people are moving.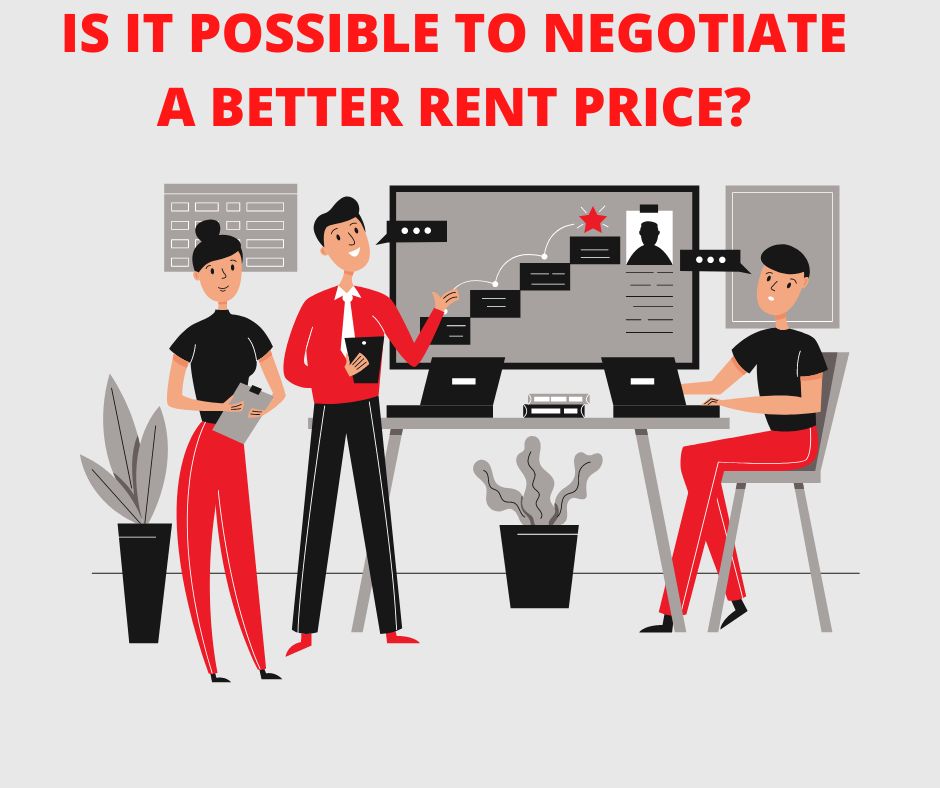 Know the Current Rental Market
Do some studying. If you feel you are being charged too much for rent. Look around at what other rentals are charging. Make sure you are sticking with properties that are just like the one you are renting. If you rent a single-family home with two bedrooms that is two blocks from the city center stick with these same exact rental properties to compare your rent.
If you find that you can live in the same or almost the same type of home for a lesser price this gives you some negotiating power. So go online and do some digging to find out comparable rents in your neighborhood. Also, pay attention to what rentals of similar properties are offering in amenities. Maybe your landlord is charging the same rent for less convenience, this is also a good point to bring up when asking for a lower rent.
Consider Offering Multiple Months Of Rent Up Front
If you have the ability to pay for more than one month at a time upfront when signing a new rental agreement this could help negotiate a lower rate. This is because it guarantees the landlord stable rental income for a set amount of time. This also shows that you are a serious and stable tenant which is like gold to a rental property owner. They don't stay in the business if they can't rely on rent coming in.
Offer to Sign a Longer Lease
If you know you plan to live in the rental longer than the standard lease agreement the landlord is offering, then ask about the possibility of signing a longer lease for the tradeoff of a lower rent payment. Offering to stay longer and signing it to a legal document is highly beneficial to a rental owner. It is one of the main goals of a landlord, to have a solid tenant that stays long-term.
Helping the Landlord Find Other Tenants
If you live in a rental with multiple units and there are units that are vacant. Work something out with the landlord. If you are able to find them a good tenant that signs a lease. Look at it as a sort of finders fee. It can be a long and taxing process to find a tenant and helping them out not only saves them the time doing so but also the money of having to pay for an empty rental.
Let Them Know You Would Like to Talk and What It's About
When asking your landlord for a rental reduction, don't just blindside them with the information. They might be shocked or caught off guard and this could make them less likely to talk and work with you. Instead, take a softer approach of asking them if you can have a meeting and what you would like to discuss well in advance with a kind demeanor.
Make Sure to Bring Up Your Value as a Trustworthy Tenant
Having a tenant that is reliable and pays rent on time is a landlord's bread and butter. If you have been renting for a long time and have not missed a payment these things are worth highlighting when talking with your landlord. A landlord doesn't want a rental to sit empty or to have to find a new tenant. So reminding them you have been dependable will work in your favor.
Make sure to get the new agreement in writing and continue on the path of being an ideal tenant. If you are unsure if you should negotiate a better rent price with your landlord you can always ask the advice of a seasoned real estate pro. If you are unable to come to an agreement with your landlord that professional can help you to look at rentals at a better price point.
For more information about available rental properties in Boston please contact us any time.